UPDATE: Record Breaking Stop-Motion Animation
If you have ever wanted to see who the most patient people are on our planet, then look no further.  Stop-motion animators create some of the most eye popping imagery you will ever witness.  From films like 'A Nightmare Before Christmas' to 'Coraline', this unique form of animation excites audiences worldwide.
One group has brought this, often minimally scaled art form, to a whole new level, the people of www.aardman.com.  Using a giant craned camera and a beach, the filmmakers made the world's largest scale, stop-motion short film called 'Gulp'.  Here is description of the project by the collective:
'Gulp' is a short film created by Sumo Science at Aardman, depicting a fisherman going about his daily catch. Shot on location at Pendine Beach in South Wales, every frame of this stop-motion animation was shot using a Nokia N8, with its 12 megapixel camera and Carl Zeiss optics. The film has broken a world record for the 'largest stop-motion animation set', with the largest scene stretching over 11,000 square feet.
Check out the videos below:
BLOG UPDATE: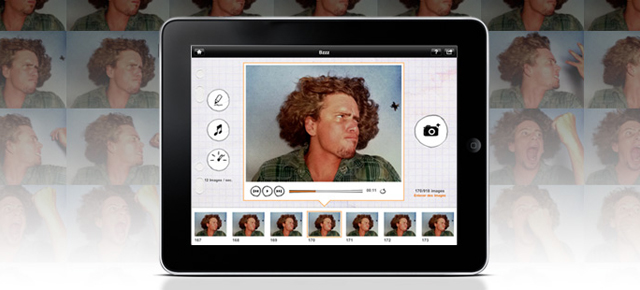 Have you ever wanted to create your own 'Record Breaking Stop-Motion Animation' film?  Well now you can!
Here in Canada, we are blessed to have the National Film Board.  This amazing collective of creators have helped to fund and create some of our countries finest works, enhancing our culture everyday.
There genius doesn't stop at film making though.  It seems they have a knack for creating revolutionary apps.  Thanks to the NFB's team of web developers, you too can create your very own stop motion films using their amazing, new PixStop app.  As described on their blog:
PixStop [is] a fresh new app that enables you to make stop-motion films on your iPad 2. Designed to capture as many as 10,000 images, Pixstop allows you to create mini masterpieces up to 13 minutes long.
To buy the app, go to:
http://itunes.apple.com/ca/app/nfb-pixstop/id481791763?ls=1&mt=8
To learn more about the NFB and the PixStop app, go to:
http://blog.nfb.ca/2012/01/11/want-to-create-stop-motion-films-we-made-an-app-for-that/
Filed Under: Blog, Multi-Media, Technology, Websites |